EDUCATION CENTER - Additional Info on Value Ranges
CEA & CA 19-9 Explanation of Zero Values View PDF
Our lab uses your tests and receives satisfactory results, however sometimes the result has a concentration of "0." Is it possible for CEA and CA 19-9 to provide a value of "0" for patients, or could this be related to the instrument which cannot read less than the concentration of Calibrator A?
In short, yes these results can be expected and therefore not related to the instrument. CEA is normally present in very low concentrations and in many patients a zero value is found. This is as expected since "0" is normally included in the reference range of CEA.
Regarding CA 19-9, patients must possess the ability to express the Lewis blood group antigen or they will be unable to produce the CA 19-9 antigen even in the presence of proven malignancy. A patient with a positive genotype for the Lewis antigen may produce varying levels of CA 19-9. Thus, zero levels of CA 19-9 would be encountered when the patients are negative for the ability to express CA 19-9 antigen (phenotyping).
EDUCATION CENTER - Lab Tips
Extending Sensitivity on TSH View PDF
In the TSH pack insert information is given on how to increase sensitivity (<0.5 mIU/ml) by extending incubation time to 120 minutes and removing the 40 mIU/ml calibrator. This is also possible with any VAST product containing TSH, including Thyroid VAST and Free Thyroid VAST.
EDUCATION CENTER - Background Information on Assays
Background Info on Vitamin B12 View PDF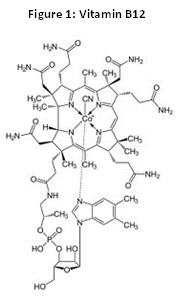 Vitamin B12 is one of the nine water soluble vitamins important for healthy body functioning (Figure 1). The most important roles vitamin b12 plays in the human body are in the formation of red blood cells and the formation of the myelin sheath around the nerves. However, diabetics and individuals with cardiovascular disease may be subject to, or have been a subject of vitamin b12 deficiencies. Since the effects are seen in body systems with a large range of function, the symptoms of vitamin B12 deficiency can sometimes be very ambiguous. The symptoms can range from tiredness and weakness to loss of balance and memory loss; Pernicious and megaloblastic anemia can even result. A deficiency may also take from months to years to manifest depending on the cause and severity.
Two of the most common causes of vitamin B12 deficiency are diet and age. Because most sources of dietary vitamin B12 come from animals, vegans who do not efficiently supplement their diet are at risk. The elderly community is also at high risk not only because of their diet, but also the less efficient functioning of the digestive system. Diabetic patients medicated with metformin increase their risk with increased dose; the mechanism metformin goes through to help maintain healthy blood sugar levels also causes malabsortption of vitamin B12. When taking proton pump inhibitors like omeperazole, or what is more commonly known as Prilosec®, individuals tend to have issues with malabsorption over years of treatment; This is due to the decrease in acid production in the gut which decreases the release of cyancobalamin from food so it can be incorporated by Intrinsic Factor(IF) of the gut.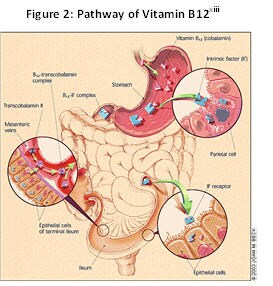 Intake of vitamin B12 starts by ingestion and then digestion by your saliva. Once reaching the gut, B12 bound to proteins in food are released by the acids present. The B12 can then bind the Instrinsic factor. Once bound to IF, B12 is stable enough to travel into the intestines where it can be absorbed into your body because of its association with IF. In some cases the B12 cannot bind IF in the gut and will bind haptocorrin, but be displaced in the duodenum by IF. Once taken in my endocytosis, cyancobalalmin is released and available to bind serum proteins for physiological use. Figure 2 shows the pathway vitamin B12 travels from ingestion to absorption.
Other testing methods can be very insightful as to the cause of the B12 deficiency. The Schilling Test uses radiolabeled vitamin B12 to determine if there is a problem with the absorption of the vitamin. Fasting gastrin levels are sometimes also used to aid in diagnosis. In rare cases, bone marrow examination can provide some knowledge but the results taken from this type of testing is not a consistently clear. Two very useful tests to distinguish between Vitamin B12 deficiency and folate deficiency are methylmalonyl CoA (MMA) and homocysteine (hcy); Both deficiencies are represented by similar symptoms, however even though both show increased levels of homocysteine, only vitamin B12 deficiency causes an increase in methylmalonyl CoA.
The increase in levels of methylmalonyl CoA and homocysteine is thought to be the root cause of any symptoms that accompany a Vitamin B12 deficiency. High levels of these two analytes in the blood stream causes increased oxidative stress to cells therefore causing increased apoptosis. In turn vascular disease in the form of atherosclerosis, coronary heart disease and neurodegeneration (ex. Parkinson's Disease).
Most individuals suffering from vitamin B12 benefit from supplementation in the administrable form known as cyancobalamin because of its coordination with cobalt and a cyano group. When severe deficiency occurs, injections of large doses of vitamin B12 are common even though oral supplements may be helpful if the cause is not malabsorption. Depending on the cause, an individual may need supplementation for a lifetime. Either way supplementation success is high and can be seen early on in treatment. The reference value ranges for serum levels of vitamin B12 are shown in the table below.
TABLE 1: Expected Values for Vitamin B-12
| | | |
| --- | --- | --- |
| Population | pg/ml | pmol/L |
| Newborn | 160 - 1300 | 118 - 959 |
| Adult | 200 - 835 | 148 - 616 |
| Adult > 60 y | 110 - 800 | 81 - 590 |
Prepared by: Ashley Malich, Quality Control Technician, Monobind Inc. (Oct 28, 2011)
References:
Snow, C.F., M.D. Archives of Internal Medicine. 1999, 159, 1289-1298.
Gruber, K. Chemical Society Reviews. DOI: 10.1039/cs15118e.
Nijst, T.Q. Journal of Neurology, Neurosurgery, and Psychiatry. 1990, 53, 951-954.
Steele, T.J. Clinician Reviews. 2010, 20(8), 16-19.
Antony, A.C. Journal of Clinical Nutrition.2003, 78, 3-6.
Francis, M.F. Biomacromolecules. 2005, 6, 2462-2467.
Liu, Y.K. Blood. 1972, 39(3), 426-432.
de Lau, L.M.L.,M.D.,Ph.D. Neurology. 2006, 67, 315-318.
Ubbink, J.B. Clinical Chemistry. 1995, 41(7), 1033-1037.
Butler, C.C. Family Practice. 2006, 23(3), 279-285.
Tanyalcin, T. Acred Qual Assur. 2000, 5, 383-387
Tietz. Reference Information for the Clinical Laboratory. In Textbook of Clinical Chemistry, 3rd Ed. Burtis, C.A., Ashwood, R.A. W.B. Saunders: Philadelphia, 1999; 1831.